Welcome to the best apartment rentals in Valencia
We have found 1 apartments that match your search criteria!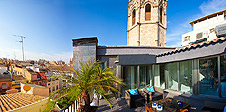 Sleeps:

6

Price:

€ 180 - € 370 / day

Category:

Grand Class - days
The best apartments to rent in Valencia are here
Spain Select offers the best selection of apartments to rent in Valencia. Immaculately designed homes that are decorated and furnished to the highest standard and fully equipped with everything you may need during your stay. Find the perfect apartment in Valencia for you and your needs. Choose from luxury apartments in exclusive neighbourhoods, attics with spectacular views or elegant properties in the very heart of the city.